Resource Exhibitor Day-of Information
(Please share all information with the person(s) representing your organization the day of the event)
WHEN YOU ARRIVE:
Step #1: Check-in and unload your car at your assigned Drop-off Zone Check-in and receive your packet with info and wristbands that come with your booth (additional wristbands are available for $5)
Step #2: Park your car in a suggested parking lot.
Step #3: Return to your check-in zone for assistance to your assigned tent.
CHECK-IN:
Check-in is open from 6:00 AM – 7:00 AM. You must be set up and ready to greet guests no later than 7:10 You must keep your tent/area open until 1:00 pm.
A Smile Team volunteer will help you transfer your materials to your tent only if you arrive by 6:45 am at the correct Drop-Off Zone.
Packing up after the event and getting your stuff back to your car is your responsibility.
PARKING INFO:
View the parking map below or click to see it in Google Maps
Red lots are paid parking
Green lots are Free parking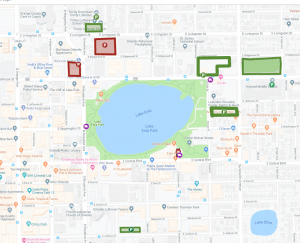 EVENT WRISTBANDS:
Wristbands are REQUIRED for all event participants. This is to distinguish between people who are a part of Make 'm Smile and others just walking around Lake Eola.

VIP Kids – Red VIP wristbands
Immediate Family Members – Red wristbands
All Others – Green wristbands

The event is free for VIPs & their immediate families and they should have priority at your tent.
Everyone else must purchase a green wristband for a donation of $5 each.
If people come to your booth without a wristband please encourage them to go to a Red & White Striped Tent to purchase wristbands.
Everyone on your team needs a green wristband if they want snacks or beverages. If your booth package did not include enough wristbands, you can purchase more for $5 each.
GENERAL EVENT INFORMATION:
Do not put stakes of any kind into the ground. If you do, there will be an automatic $250 Lake Eola Park irrigation check charge.
If there are strong winds, please help us break down the tent. FIRST, cut off the zip-ties on the weights & then collapse the frame. Please throw away zip ties and leave everything else in your spot, do not carry or move it.
If you have questions during the event, please go back to your check-in tent for assistance or stop a golf cart in your area.
If you can't leave your area, our care team will be circling to deliver snacks & beverages to you.
Tear down BEGINS AT 1:00 PM. Please leave your tent, table, chairs and sign in place for our Smile Team to break down. There will be a $25 charge for any missing tent signs. DO NOT LEAVE BEFORE 1:00 PM (Tear down before 1:00 PM may affect your participation at future events.)
NEW THIS YEAR:
City of Orlando Parks no longer allows balloons at the park. Only official Make 'm Smile balloons are allowed.
Water stations – BRING A WATER BOTTLE! In an effort to go green we are moving to water stations around the lake. At these stations, event participants (those with wristbands) will be able to fill and refill. Cups will be available to VIPs for free (while supplies last) and souvenir cups available to all other event participants for $1 while supplies last. Personal cups/tumblers can be used as well for anyone with an event wristband.
FOR ANY IMPORTANT LAST MINUTE "DAY OF" INFORMATION:
If you have any questions prior to the event, call our office at 407-857-8224, M-F 8:30 am – 5:00 pm or email [email protected]