Celebrating kids and adults with all types of special needs, our VIPs!
---
VIPs have Value & Incredible Purpose!
VIPs are kids with any physical, cognitive, medical or hidden disability, chronic or life-threatening illness, or those who are medically fragile and adults with intellectual or cognitive disabilities.
Does that describe you? Join the VIP Birthday Club!
Club Benefits:
Birthday card to celebrate VIP's birthday each year
A one-time gifted Bearing Hope plush bear
Online Recognition
First to know about upcoming Nathaniel's Hope VIP events in your community
Easier VIP event registration
Register for the Club! I Lost My VIP Membership Club ID #
Bearing Hope Bear Brings Joy and Hope to VIPs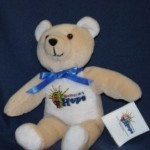 "When I received a teddy bear from Nathaniel's Hope, it felt so comforting…. It was unexpected at a moment that I really needed something. It had just come in and my daughter says, 'Look mom, I have a teddy bear, look,' and right now she has a name for it, her dad's name, 'Hector' [who just had a heart attack] and it's really been a blessing." -VIP MOM
If you would like to sponsor a bear for a child with special needs, please click here.
VIP Birthday Club Registration
We are so excited for you to join our VIP Birthday Club!
Here's How to Join:
Come prepared with proof of disability

(Just snap a picture or upload a file!)

. The reason we require proof of disability is to ensure the club is exclusive to VIPs. Proof of disability that is accepted includes 1st page of an IEP, 504 Plan, or IFSP. Also, any Doctor's/Therapist's letter/note with the child's full name, birth date, and some kind of diagnosis.

If the registration page is not accepting your documents, they may be too big. You can email your proof of disability to

[email protected]

if this issue occurs

Fill out the Registration Below. Make sure all information is accurate including birthdays, contact information, and address so we can assure your birthday cards and Bearing Hope Bear reach you.
Look out for VIP Membership Card. Upon approval of registration, you will be mailed a new Membership ID card which can be used on various occasions and includes your VIP Membership number for quicker registration for exclusive VIP events.
Complete the VIP Disability Verification form below to become an official VIP Birthday Club Member with Nathaniel's Hope. Please allow 7 business days for processing your application. You will receive your VIP Membership ID # by e-mail after 7 business days, and will receive an official VIP Membership Card by mail within the next 1-2 months.
This form may also be used for updating your family's information/providing necessary proof of disability documentation.
You must have a VIP Membership ID # in order to register for Nathaniel's Hope events.