Buddies/General Admission Day-of Info
Come Early! There is so much to do and it's a little cooler!
DOWNLOAD OUR FREE MAKE 'M SMILE 2019 APP
Get ALL event info, including maps, schedules, push notifications, and more! Available in the App Store/Google Play.
DIRECTIONS: Download the Attendify event app, then search "Make 'm Smile"!
CLICK HERE for direct link
REGISTRATION
If you haven't registered as a Buddy, REGISTER HERE.
PARKING
View the parking map below or click to see it in Google Maps
Red lots are paid parking
Green lots are Free parking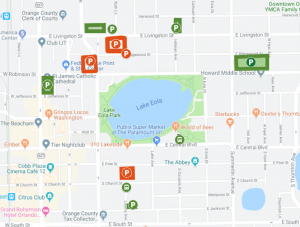 ALL Parking is on a first come first serve basis. Space is limited. Come early.
BUDDY CHECK-IN LOCATION (Look for Green Tent):
East side of Robinson Street (near Rosalind Ave)
West side of Robinson Street (near Eola Drive)
Be sure to Bring: Your Buddy Registration ticket with bar code printed or on phone.
If you have friends who would like to be Buddies and have not registered, encourage them to do so HERE to save time. They can also pay $5 for a green wristband at the event.
JOIN THE FRIENDSHIP STROLL:
After check-in, make a new Buddy Friend and enjoy the Friendship Stroll together!
Read the Tips to being a good Buddy as a guide for your time together. Have fun and make a new friend!
Stay with your Buddy and their family until they are done. Do not leave early. They need you!!!
BUDDY WRISTBAND PROVIDES:
1 Food Coupon
Access to all games and entertainment at Make 'm Smile
Make 'm Smile T-shirt for $5
Souvenir Cup for $1
MEDICAL & RESPITE CARE TENT:
There will be VIP care stations available on Robinson Street and by the Amphitheater to tend to your Buddy's special needs. It will have a private changing area with a cot as well as electricity available and some extra hands to assist you.
General Information
SOCIAL MEDIA:
Follow us and share your pictures on Facebook, Instagram, and Twitter! Use hashtags #MakemSmile #NathanielsHope.
WEATHER – RAIN OR SHINE – COME!
We will be there… unless there is a tropical storm or hurricane in the area! Be sure to bring your umbrella, just in case!
EVENT HIGHLIGHTS at The Party Place/Amphitheater:
8:30 am – Show begins with Ellis & Tyler, Morning Show Hosts at Z88.3, and continued entertainment
9:45 am – Chick-fil-A will serve sandwiches by the amphitheater to VIP families. Must have coupon from registration. While supplies last!
10:00 am – Special guests, including Mayor Buddy Dyer WFTV Channel 9
10:15 am – Our annual VIP Kids sing along on stage with Carolyn Pankalla
10:30 am – Hall of Hope Butterfly Release
11:15 am – American Idol finalist, Alyssa Raghu and the Latitude 28 band
1:00 pm – We all go home smiling!
WHAT TO BRING:
Water Bottle (This year, we will provide filtered cold water at water stations. Bring a bottle or purchase a $1 souvenir cup or Nathaniel's Hope tumbler)
Sunscreen
Cash for parking (if you choose to park in a non-designated parking lot or do not have a VIP parking pass)
Umbrella for rain or sun
Your Biggest Smile!
NEED HELP?
Visit a Nathaniel's Hope Information Tent, stop a Smile Team member wearing a bright orange or yellow t-shirt, or a person with a yellow umbrella!
THERE IS SO MUCH TO DO! Review our 2019 Event Map to see all we have to offer!
Don't miss your chance to meet Nathaniel by the Amphitheater!
Walgreens Fun Zone – Featuring bounce houses, games, karaoke, and photo booth
Orlando Health Sports & Health Zone – Orlando City Soccer, see an ambulance, & more
Nathaniel's Hope Buddy Break Boardwalk – Games and activities galore
Fun Spot train – Coming from Fun Spot America!
Nathaniel's Market – An ALL-NEW area featuring VIPs with their own businesses!
Animal Land by Leland Management – Petting zoos, llamas, and even get a photo with a gator from Gatorland!
Splash Zone by BNY Mellon – Cool off with water games & our all new Slip & Slide
The Party Place (by the Amphitheater) – Meet our Nathaniel character! Don't miss Sea World's Cookie Monster handing out his favorite cookies and character friends from Universal Orlando!
Transportation Station by Regal Boats
50 characters strolling around Lake Eola AND MORE!
FOR ALL IMPORTANT LAST-MINUTE DAY-OF INFORMATION:
Come early to enjoy all the fun activities around the lake! You can still invite your friends to pre-register online to participate as VIPs or Buddies.
This day is planned in to celebrate VIPs! Enjoy making a new friend and celebrate them!!!