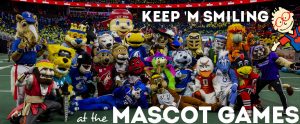 ALL TICKETS HAVE BEEN RESERVED FOR THE MASCOT GAMES.
REGISTRATION IS CLOSED.
Join us for an exciting Keep 'm Smiling event: Mascot Games!
Event Date: Saturday, June 22, 2019
Time: 2:00 pm
Location: Amway Center
Tickets: You may reserve up to 4 tickets per family by filling out the registration below.
PARKING: Paid parking is available in the parking garage next to the Amway Center and parking lots in the surrounding area.
Accessibility: Please view the Amway Center Accessibility Guide and direct any questions related to access to the Amway Center Customer Service 407.440.7900
ALL VIPs must have a Membership ID number in order to register. If you lost yours, please complete the info here to retrieve it.
There are a limited amount of spots available. Please confirm your and your VIP's availability before making a reservation.
Tickets are available for purchase here.