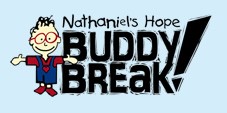 Kids Have Fun and Caregivers Get a Break!
What is Buddy Break?

Buddy Break is a FREE kids/respite program designed to give caregivers of kids with special needs (VIP kids) a break from their ongoing care-giving responsibilities for three hours. Each VIP kid at Buddy Break is paired up with a Buddy friend for one-on-one attention as everyone has fun playing games, hearing and seeing great children's stories, videos, music and more while giving the caregivers a much needed break! Siblings have fun too!