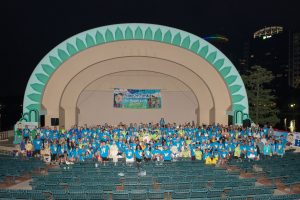 For Our Volunteers…
ALL VOLUNTEERS MUST REPORT TO THE BAND SHELL AT 5:30 A.M. Any volunteers who show up later than 6:15 a.m. will be asked to participate in the event as a buddy.
Bring a FULL water bottle to stay hydrated and refill them with our free filtered and chilled water stations.
For more information, please see the Volunteer Training Info Sheet.
Make sure to download our App to stay up to date on information.

Parking For Volunteers
The great thing about arriving for a 5:30 am meeting is you get a broad selection of parking options. (You are so lucky!)
We are saving our closest spots for our VIPs and Resource Exhibitors. This is what we would ask you to do.
801 E Robinson St, Orlando, FL 32801
217 E Ridgewood St, Orlando, FL 32801
302 E Pine St, Orlando, FL 32801
22 North Summerlin Avenue, Orlando, FL 32804