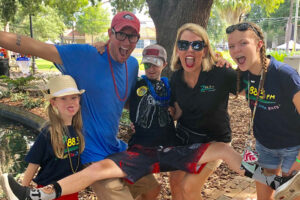 For Our Buddies…
We are so excited for you to join us this year as a buddy friend and help create the best environment for our VIP families.
If you do not register prior, you can register at the BIG tents on Robinson Street. Once checked-in, you will be paired up with a VIP family!
Make sure to dress cool and comfortable and bring a refillable water bottle to be used at our free filtered and chilled water stations.
Make sure to download our App to stay up to date on information.

Parking For Buddies
In years past, we have been blessed with an enormous amount of FREE parking. That is not the case this year.
1. We recommend you find a spot down a side street
2. Park at one of the lots around the lake.
217 E Ridgewood St, Orlando, FL 32801
4.
Orange County Lot
–
At the corner of Liberty and Jackson.
Free parking and a good alternative for the south side of the lake. VIP and Exhibitors use C registration off of Osceola circle.
22 North Summerlin Avenue, Orlando, FL 32804